Managing Your Business
5 Ways Your Business Can Celebrate Hispanic Heritage Month
5 Ways Your Business Can Celebrate Hispanic Heritage Month
Haz clic aqui para leer este articulo en español.
September 15 marks the beginning of National Hispanic Heritage Month, also known as Latinx Heritage Month. From then to October 15, we come together to celebrate the contributions and cultures of fellow citizens whose ancestors came from Mexico, Central and South America, the Caribbean, and Spain. You're likely to see a ton of cultural events pop up to honor the month, but you might find yourself wondering what you can do as a business to mark the occasion.
Similar to other cultural celebrations, such as Black History Month, it's common for businesses to commemorate the occasion with marketing social media posts, videos, and other messages. But these are common activities that anyone can do. At best, they come across as the bare minimum. At worst, they come across as performative and inauthentic instead of genuine appreciation of the Latinx community.
We know you're serious about supporting all people, especially those in your business's community. That's why it's important to show everyone you're doing more than just paying lip service to the Hispanic community.
What Is Hispanic Heritage Month?
Before you start making plans, it's essential to get a deeper understanding of Hispanic Heritage Month. The last thing you want to do is jump the gun, treat it like Cinco de Mayo, and come across as insensitive.
This month-long celebration has its roots in the civil rights movement of the 60s, where it began as a commemorative week in California. President Lyndon B. Johnson officially federally recognized Hispanic Heritage Week in 1968. It was expanded to Hispanic Heritage Month in 1989.
You might be wondering why it begins on September 15. This day lines up with different Independence Day celebrations in five Latin American countries — Costa Rica, Guatemala, Honduras, El Salvador, and Nicaragua. Additionally, Mexican Independence Day falls on September 16 (NOT May 5). It's quite a revolutionary month, and it makes sense that this date marks the start of a month aimed at celebrating these cultures.
Why Should Your Business Celebrate Hispanic Heritage Month?
Workplace race and ethnicity can be tough waters to navigate. Your first instinct might be to take a "colorblind" approach and stick to surface-level messaging to show support.
But downplaying demographics can make a business feel even more biased and comes across as out of touch. The reality is that people of different cultures face different challenges, and people of Hispanic descent have to work against unique prejudices, even as they make up 18% of the U.S. population. Acknowledging this and embracing differences shows that your business is open to learning and celebrating people of all backgrounds.
1. Let Latinx Employees Guide Hispanic Heritage Month Activities, But Don't Overburden Them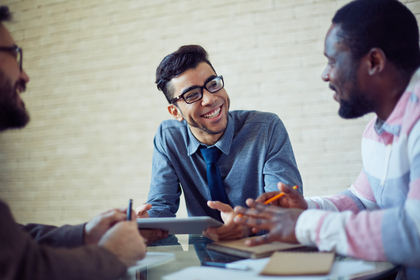 This is the perfect opportunity to foster a sense of community and ownership among any Hispanic/Latinx team members. Get them involved and ask for their input or leadership as you plan what you'll do to celebrate Hispanic Heritage Month as a business. Ask if they're comfortable sharing stories of family, culture, or history.
This is an excellent jumping-off point for reviewing your broader inclusion efforts. Make your workplace an environment where people can openly but respectfully share their backgrounds and differences without falling into the trap of "colorblindness." Reach out to prominent Hispanic/Latinx employees in leadership positions and empower them to lead events celebrating Hispanic culture, community, and people.
Don't be afraid to let them think big. In fact, it's better for the community and your business's place in it if the events your employees dream up have far-reaching goals that last beyond Hispanic Heritage Month.
But be careful not to assume that a teammate will be eager to take on this extra work just because they have ties to Latinx culture. What might seem like fun brainstorming and event planning is serious work to those team members taking it on, piled on top of the work they already do. Placing the burden of planning a Hispanic Heritage Month celebration on a visible minority can also make them feel tokenized, which is the last thing you want to do.
Let these leaders come to you naturally, and thank them for their time and ideas throughout the process.
Finding it difficult to identify Hispanic employees in leadership positions? Perhaps it's time to do some self-reflection and understand why that is. We're not saying give out promotions as some sort of gift, but try to understand if there might be some unconscious bias at work. It happens to the best of us, but times like these are a good avenue for growth.
2. Partner With Latinx-Owned Businesses
Hispanic Heritage Month offers your business a unique inroad to building connections with fellow business owners, particularly among Hispanic and Latinx small businesses. Recent data from the Latino Business Action Network (LBAN) shows approximately 400,000 to 450,000 Latinx-owned employer businesses spread across all parts of the U.S. economy.
Despite these successes, Hispanic entrepreneurs continue to face systemic barriers. Lack of mentorship opportunities, lack of access to sources of capital, and other roadblocks combine so that only 6% of businesses are Latinx-owned. In an equitable society, this number would be much higher. Supporting Hispanic entrepreneurs in your community is a great way to celebrate Hispanic Heritage Month in a way that truly matters. You can do your part to remove barriers keeping Hispanic-owned businesses from success.
Becoming a loyal customer of a Hispanic-owned business is the easiest way to support the community. Take the time to research the businesses around you and find which best suit your needs. Here are a few ideas:
Contract a Hispanic-owned company for business needs such as printing or equipment maintenance.
Find retailers owned by Latinx entrepreneurs and purchase office supplies and business necessities.
Latinx-owned businesses skew slightly stronger into the food industry, so consider contracting a Latinx restaurant or catering service for your next business meeting or party.
3. Contribute to Hispanic-Focused Nonprofits
Helping out an organization focused on centering and uplifting Latinx and Hispanic people can be a great way to celebrate Hispanic Heritage Month. Take note, however, that simply making a one-off donation at the start of the month and putting the matter to rest can make you look callous.
Instead of donating to the first result that comes up after a Google search, make a concerted effort to find a nonprofit that speaks to you and, ideally, your business. If your business is in the technology sector, find a Hispanic-focused nonprofit that caters to that, for example. Also, consider eschewing a lump sum donation at the start of Hispanic Heritage Month in favor of contributing a percentage of your September and October revenue.
The latter allows you to use your business's platform to talk about your plans and bring attention to the nonprofit organization you chose.
If you want to include your employees, you can match their donations to a specific dollar amount or get their feedback on what nonprofits to support. When an entire business comes together to support Hispanic/Latinx or other minority groups, your company culture can serve as a retention tool.
Some great organizations to start your research with include the The Hispanic Heritage Foundation, United We Dream, and the National Alliance for Hispanic Health.
4. Celebrate Hispanic Culture With a Special Event
If you need an idea that shouldn't be hard to get off the ground but can help foster cultural appreciation among your employees, consider hosting an event as part of Hispanic Heritage Month. The choices are numerous and up to you and what works best for your business.
To tie things back to our previous point, perhaps you can promote employee participation in a local Hispanic-focused organization. Look for local charities and nonprofits that are Latinx-led or focused that need help with community projects. That's just one option, however.
Activists within your community are likely more than willing to speak with your business and foster discussions around topics important to the local Hispanic community. Some may even be interested in planning workshops that can add practical hands-on learning and bonding time between employees of diverse backgrounds.
Don't discount more outwardly fun ideas, either. If you have a brick-and-mortar business, you might host a movie night showcasing films from Latinx filmmakers or a concert highlighting a curated playlist of Hispanic or Spanish-language music. Sharing cultural items like these is a great way to promote diversity and strengthen community bonds. You could even make them yearly events and cement your business as a supporter of the community.
5. Support the Hispanic Community Year-Round
It's great to move forward with these initiatives during Hispanic Heritage Month, but it's essential to understand that you're not limited to the specific time period of September 15 to October 15. Inclusivity and diversity should not be topics your business is only passionate about at certain times of the year. Both customers and employees quickly identify companies using cultural holidays as excuses for self-aggrandizing content.
Look for ways that you can support Latinx or Hispanic Americans every day and celebrate and support the Hispanic community year-round. Make sure you're authentic and that your efforts are sustainable throughout the year. Do that, and your business is sure to have a positive impact on the Latinx community this year and beyond.
Ready to Start Your Business?